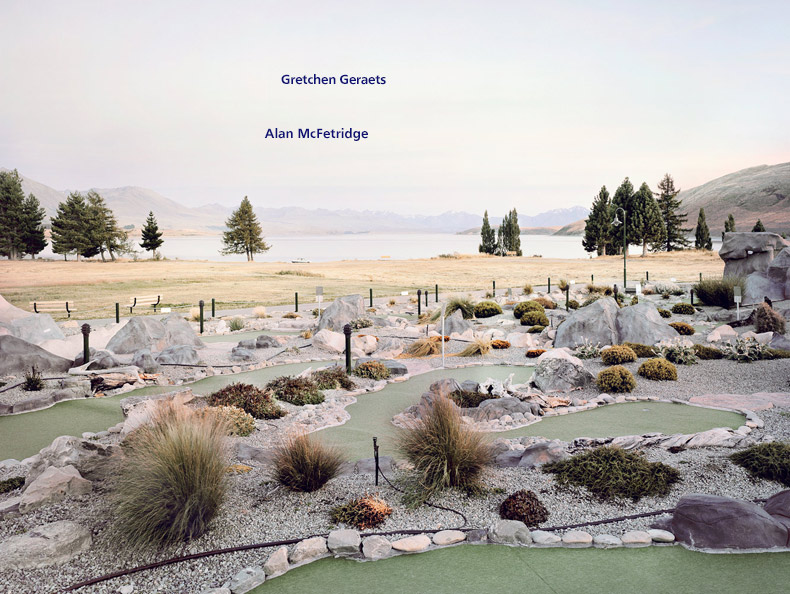 After 10 years of working together on projects from Auckland to New York. We have decided to spend the future working more independently.
Please follow the links to our respective new websites or continue to browse the now archived "Alan & Gretchen" website.
We would like to thank everyone that we have had the pleasure to work and hang out with over the past 10 years. We are very much looking forward to new exciting adventures and look forward to hearing from you.
Best Wishes from A&G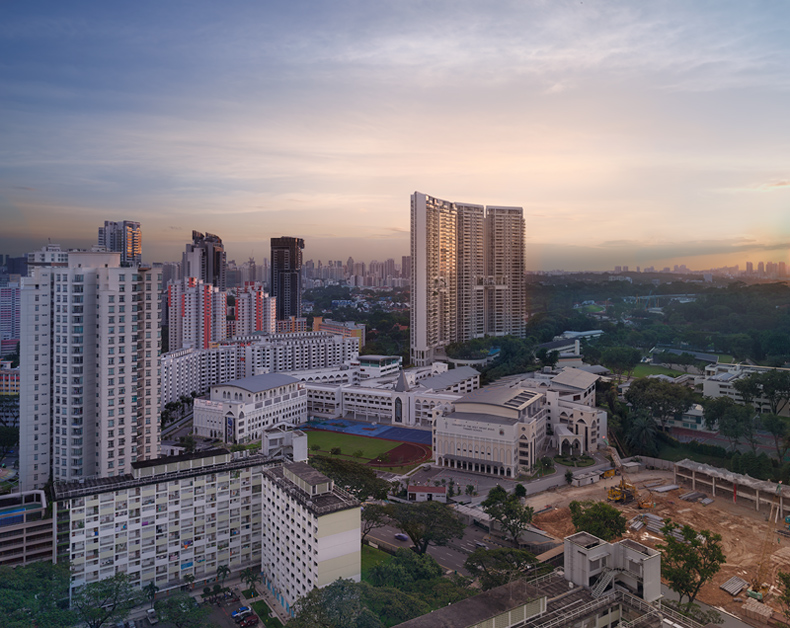 Singapore's homeland; Toa Payoh New Town.
Defined within a single frame, this image show the development of Singapore's housing stock since 1968, as seen from the 30th floor of Block 144 HBD. Toa Payoh and Queenstown districts were revisited to gain an understanding of the first Singaporean satellite towns. The immediate reaction was to the cleanliness of the 47 year old environment and the calm of the population living in amongst the multiple rows of 30 and 40 story apartment blocks. It was surprising after living in Poplar and Brooklyn, Le Corbusier had been criticised for not considering the impact, on conditons and residents, of multiple estates in close proximity to each other.
The differences between environments of Glen Innes, Poplar and Toa Payohs condition are dramatic and found it ironic that Toa Payoh (meaning big swamp) was built on a swamp and Balfron on a brownfield site. Toa Payoh New Town was built by Singapore's Housing Development Board in 1968, one year after Erno Goldfinger's utopian Balfron Tower and Le Corbusier's Unite d'habitation had been compeleted.
More than 80% of Singapore's 5.5 million population live in HDB flats, with 95% of them owning their HDB flat.
---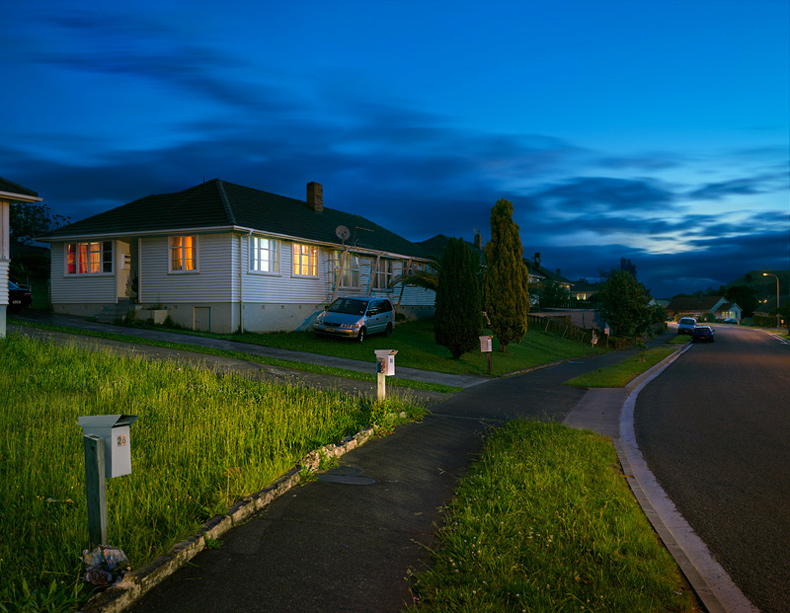 Following two years of research and photography whilst living in Tower Hamlets London, the study was expanded Glen Innes, Auckland, New Zealand. Yet, another suburb facing rapid transformation as the historic state housed community are evicted* with current tenants facing uncertainty, although the future is as predictable as certain. I lived in Glen Innes for 5 years between 1985 and 1989. Glen Innes offers social, political and geographic counterpoint to Poplar, London.

Discord is a commonality between the two communities of Poplar and Glen Innes as is the so called progress. Both communities face terms such as redevelopment and gentrification. In Glen Innes, the Tamaki Housing Group are fighting the evictions to keep the community intact.

I decided to meet the tenant of this house after noticing the melody of coloured fabric that dressed the windows. After meeting Lisa, I spent time with her and neighbours over 3 days whilst camped, with camera, on the pavement.

*Rate of eviction 1 in 2007 to 473 in 2013
---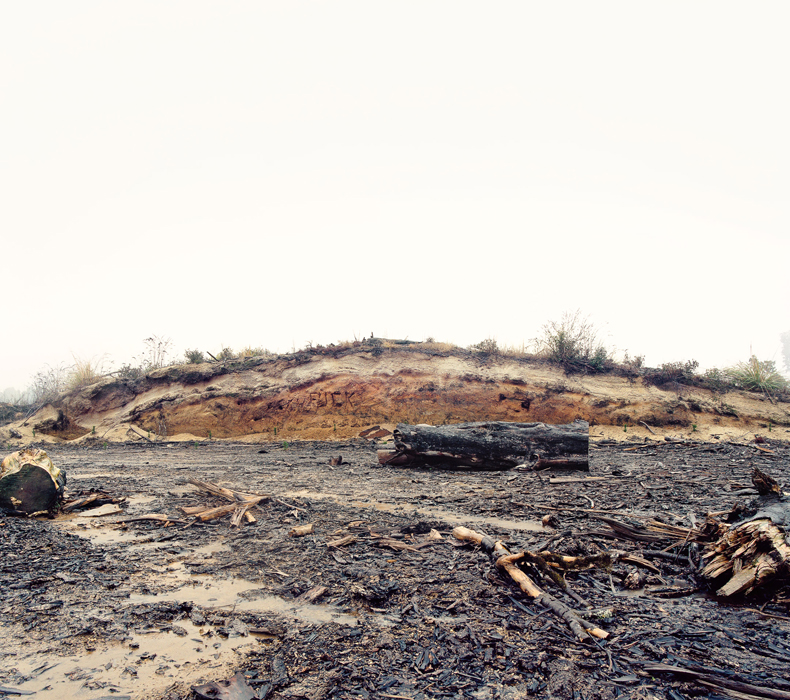 Exhibition: Hidden in Plain Sight. A group show at Norwich University of the Arts.
The final selection of works has been made by Norwich Castle Museum and Art Gallery Curator of Modern Art, Hannah Higham and NUA Visiting Professor Nichola Johnson, former Director of the Sainsbury Centre for Visual Arts.
The Gallery at NUA
27 January – 28 February 2015
www.nua.ac.uk/thegallery
@galleryatNUA
---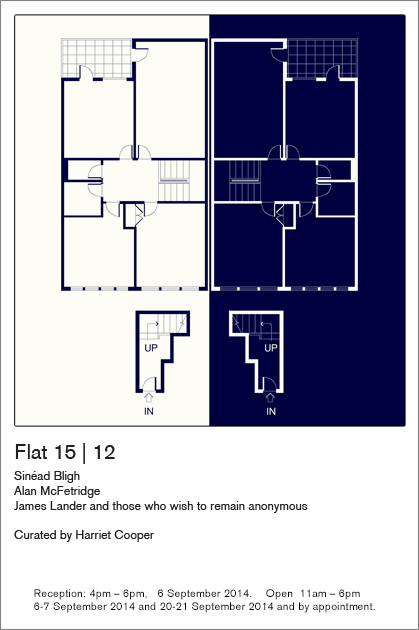 Connected by a shared interest in the history and legacy of Balfron Tower, Alan McFetridge, Sinéad Bligh, James Lander and those who wish to remain anonymous present Flat 15 and Flat 12 of Ernö Goldfinger's iconic high rise building.

It is within this unique situation and space that McFetridge, Bligh, Lander and those who wish to remain anonymous come together to explore the specific context of Balfron Tower as both a community, and site of social concern and consequential displacement. The artists consider the importance of who has inhabited the building, who is present in the spaces now, and who will utilise this environment in the future.
---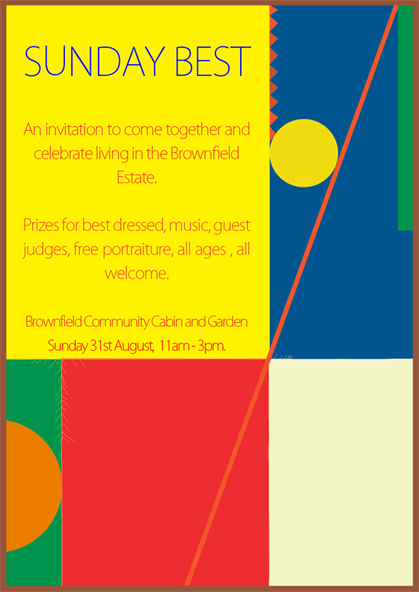 Sunday Best, organised to engage the wider Brownfield Estate and family. With support from the Brownfield Estate Board and local community leaders, a photography studio was set up in the community cabin for the day. Images from the day to be posted shortly
---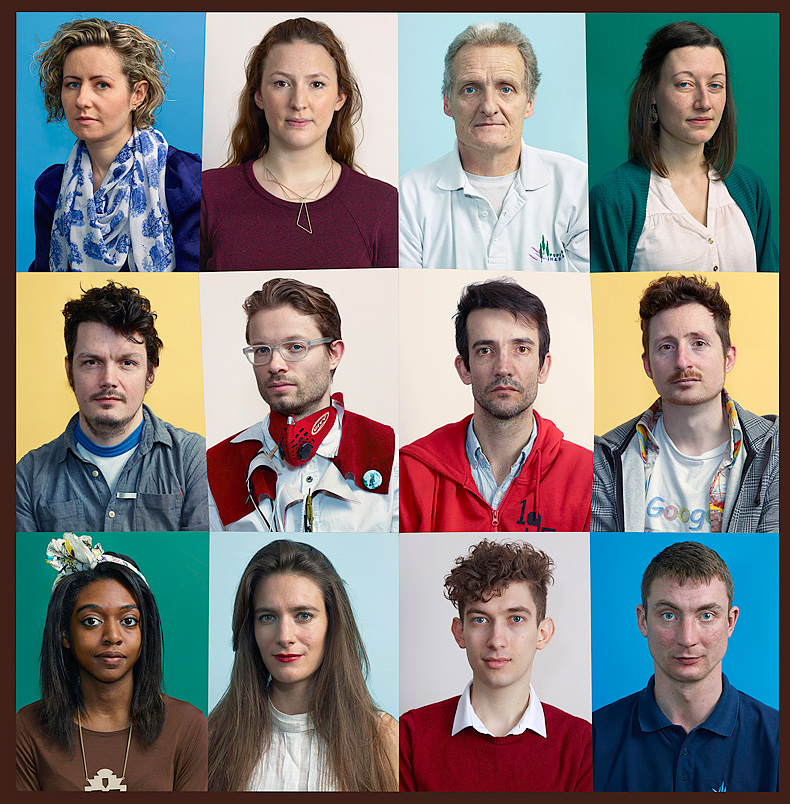 Tower Interior, 2014.
---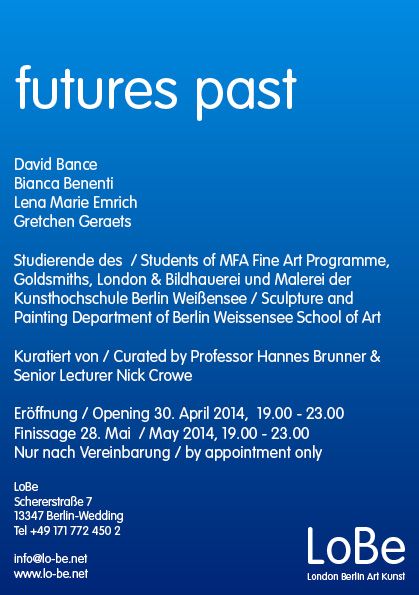 Gretchen's exhibition at Lobe in Berlin opened this week with a collaborative exhibition project by students from the MFA Fine Art Programme, Goldsmiths, London and the sculpture and painting department at Kunsthochschule Berlin-Weißensee. Until 28/04/2014
---
We are delighted to announce that Fuck has been nominated for the 2014 Summer Exhibtion at The Royal Academy of Arts, London
---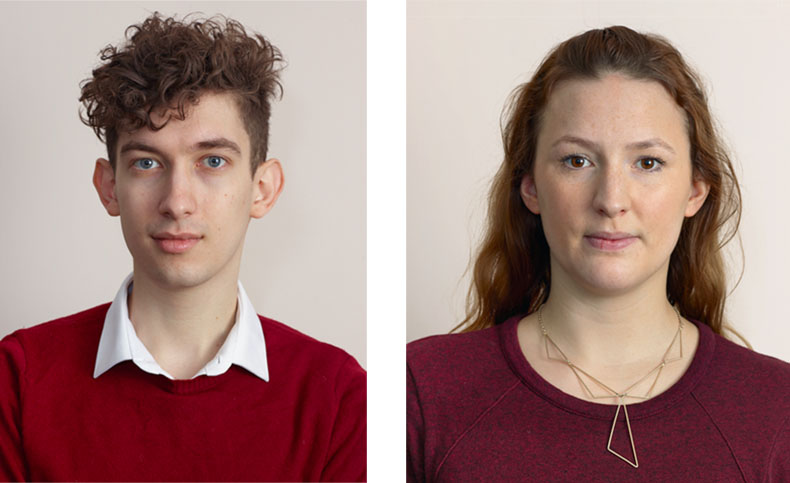 New portraits from a current project in East London
---
September 2013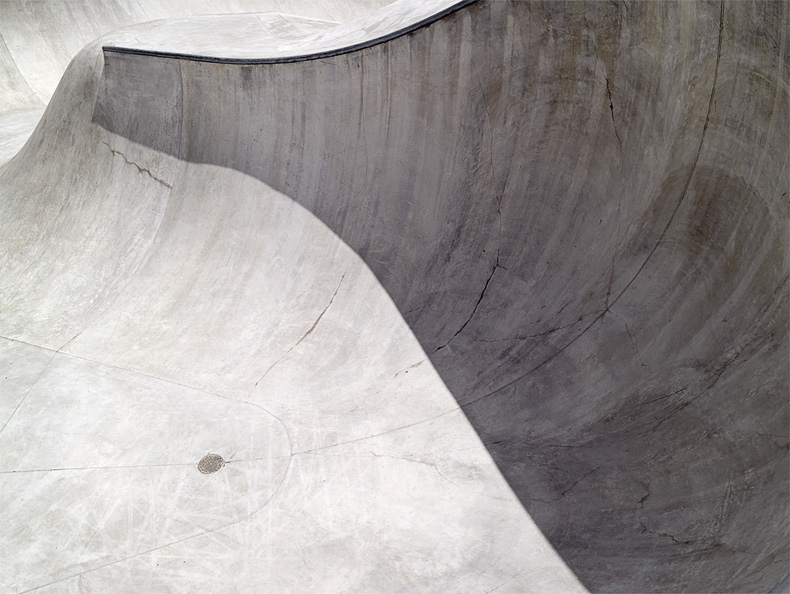 New Work | Composites I, II, III,IV 2013
Limited Edition of 20
60cm x 80cm
Glicee Prints on archival paper
P.O.A.
---
Exhibition, London
December 2012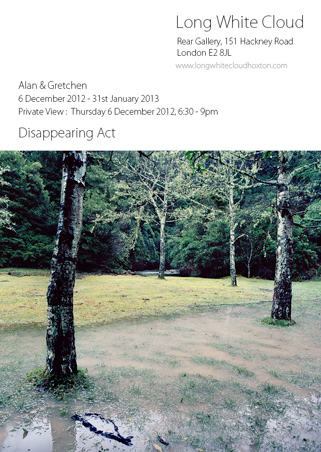 ---
Selected for Lurzer's Archive International
December 2012
---
Exhibition
October 2012
You are warmly invited to join us at the preview of our exhibition at Long White Cloud Gallery in Hoxton.
Long White Cloud Gallery
151 Hackney Road, E2 8JL
Preview: Thursday 18 October 2012, 6 - 8pm.
Exhibition continues 18 October - 15 November 2012

Long White Cloud Gallery is open Monday - Friday, 7am to 6pm and Saturday - Sunday, 8am - 5pm
---
GW OPEN STUDIOS
17–18 MARCH 2012
Please join ALAN & GRETCHEN & other Cell Studio artists for the GW Open Studios Weekend.

ALAN & GRETCHEN 0750 1394 819

STUDIO 13, Grosvenor Works, Mt Pleasant Hill, London E5 9NE MAP

Saturday 17th and Sunday 18th March from 12–6pm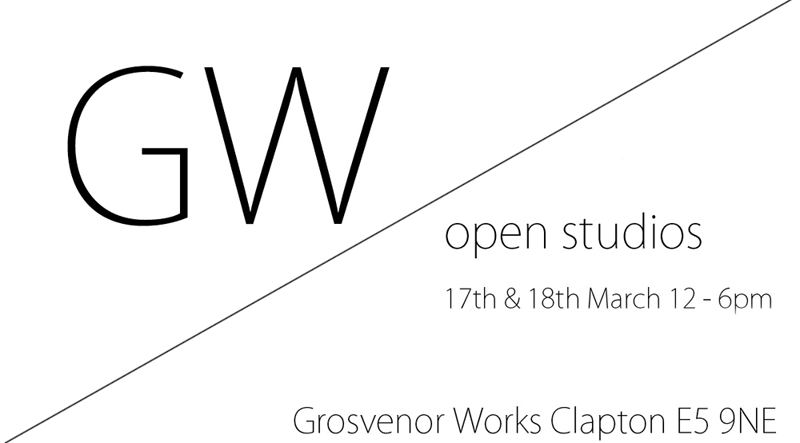 Participating Studio Artists Include: ALAN & GRETCHEN, Dan Austin, Ronin Cho, Steven Geddes, Mair Hughes, Kieran Ingram, Rebecca Knapp, Francesca Lowe, Simon Millgate, Joanna Peace, Ania Wawrzkowicz and more. . .
---
---

WeSC

26 SEPTEMBER 2011

Focusing in on the manufacturing of WeSC's shoe factory's in Italia.
So proud of how the folk at WeSC produce their Italian made shoes the factory doors are open for you to discover the order of things.
Italy, so picturesque! WeSC what great machines!


Credits:
Production Company: bricolagista!
Director of Photography: Alan & Gretchen
Vignette Maestro, Colorist Extraordinaire: Michael Sobo
Writer/Director/Editor: monihan monihan
Executive Producer: Dr Creutz

---

---

VW Passat | Lurzer's Achive

11 AUGUST 2011

More award winning work! Pleasure to Business campaign shot by ALAN & GRETCHEN in Sydney, Australia for DDB.

---

Marc Quinn

1 AUGUST 2011

Behind the scenes of last weeks shot for Jungle City in conjunction with The Elephant Family | Alan and Marc Quinn

Currently working on a series of artist portraits shot for the upcoming Jungle City auction. Including portraits of artists: Marc Quinn, Peter Newman, Antonia Tibble, Emma Elizabeth Kemp, Eric de Laurens, Helen Cowcher, Janet Law, Natalie Mann, Omar Castaneda, Richard Allen, Seif Al Hasani, Silo Studios, Sojo Tanaka and Studio Swine.

Auction Catalogue coming out soon. Thanks to all the artists and coordinators and a special thanks to the lovely Seecum Cheung.

---

---

VW Passat | DDB

27 APRIL 2011

Pleasure to Business | Business to Pleasure

And it was our pleasure to work with DDB's team Steve Wakelam, Creative Director; Adam Ledbury, Art Director; Bryson Holt, Art Buyer.

---

---

The ALAN & GRETCHEN'S BLOG

17 February 2011

ALANANDGRETCHEN.wordpress.com/

To see more of our work, behind the scene shots and photos from our various journeys.

Images below extracted from: http://alanandgretchen.wordpress.com/our-work/still-life/

Still Life, A Center for Art, Auckland, New Zealand

The Royal Photographic Society 153rd International Print Exhibition

JANUARY – MAY 2011

The Royal Photographic Society
153rd International Print Exhibition (cont.)
through April 2011

2011 Exhibition Schedule

26 April – 26 May 2011
Birmingham Institute of Art & Design
Birmingham City University
Gosta Green, Corporation Street

Birmingham B4 7DX
www.biad.bcu.ac.uk

29 Jan – 20 March 2011
Bonhoga Gallery
Weisdale Mill, Weisdale, Shetland Isles ZE2 9LW
Tel: 01595 745 750
www.shetlandarts.org

11 Dec 2010 – 22 Jan 2011
Banbury Museum
Spiceball Park Road, Banbury, Oxon OX16 2PQ
Tel: 01295 753752
www.cherwell.gov.uk/banburymuseum

---




Motutapu I

---




---

AMV BBDO : Charity Arts Sale 2010,
26 November – 13 December 2010


Private Reception
Thursday, 25 November 2010 6:30–9pm
Abbott Mead Vickers
151 Marylebon Road London NW1 5QE

Artists will be held anonymous prior to preview.
A5 prints £35ea. Larger works raffled during the preview reception.

Auction in aid of Kids Company, www.kidsco.org.uk

---

Lexus IS350


Delving into a brighter future.

For this 3 shot campaign everyday driving situations were considered through the optimistic perspective of the new Lexus IS350 driver.

Agency: Saatchi & Saatchi
Creative Director: Steve Back
Art Director: Justin Carew
Art Buyer: Skye Houghton
Retoucher: Mark Stern

---

The Royal Photographic Society:
153rd International Print Exhibition 2010

Exhibition Traveling: June 2010 – April 2011

We are pleased to announce the inclusion of Alan & Gretchen in this years The Royal Photographic Society's153rd International Print Exhibition 2010. With the selection of 2 prints into the exhibition of 123 images which attracted over 3000 entries.

With a long history of over 150years, The Royal Photographic Society's International Print Exhibition is the longest standing exhibition of its kind in the world. With a strong reputation for the annually held exhibition showcasing a broad scope of contemporary photography spanning genres and styles, including cutting edge work alongside the exhibition of some more traditional printed work. Ensuring its continued uniqueness within the photographic world.

2010 Exhibition Schedule

11 Dec 2010 – 22 Jan 2011
Banbury Museum
Spiceball Park Road, Banbury, Oxon OX16 2PQ
Tel: 01295 753752
www.cherwell.gov.uk/banburymuseum

11 Sept – 6 Nov 2010andgretchen.blogspot.com/p/still
Aberystwyth SY23 3DE
Tel: 01970 623 232
www.aberystwythartscentre.co.uk

14 July – 31 August 2010
Allen & Overy LLP
One Bishops Square, London E1 6AD
Tel: 020 3088 0000
www.allenovery.com

Still Life 1

---

Between 6 : Six project spaces discus artist-run project spaces

How and why do artist-run spaces differentiate themselves from commercial galleries and art institutions? Who are they for?

Join us on 29 April, 2010. 7–9pm for a discussion at Harper Road between: Waterside Project Space, LimaZulu, South Tower Social, The Woodmill, Alan & Gretchen, Concurrant.

Twenty For Harper Rd, Southwark, London SE1 6AD
Open 2 April to 3 May 2010, Wed- Sun, 10-6

An idea thought up by Raw Canvas (the young peoples' collective at Tate Modern)

TWENTY FOR HARPER ROAD
20 projects, 32 days, 24 Harper Road. Twenty For Harper Road was a temporary creative project space operating out of a disused travel- agents in Southwark. It ran throughout April 2010 and provided free workshops and activities in the space for young people. The project was run by Raw Canvas the young peoples collective at the Tate Modern.
www.twentyforharperroad.blogspot.com

---

Gallery Stock

Image library now represented by Gallery Stock.

http://www.gallerystock.com/contact
London +44.207.033.6961 stewart@gallerystock.com
New York (+1) 212.219.7520 jeff@gallerystock.com


---

Lens Modern : Exposed

Alan & Gretchen shall be present and Alan's prints will be displayed and available for sale.

5 – 6 December 2009
12.00 – 6.00pm
The Dairy Studio
43 Bellemden Road
London SE15 5BB




---

---